Ask 10 people working in the studio, all 10 people say that sound absorption is important. But ask them how important they are and how the room treatment affects the sound accuracy, maybe only 1 person can answer correctly. This video will help you read MIX Headphone Magazine, see with your own eyes the tremendous impact of the room, how to deal with sound absorption on the accuracy of sound no matter what speakers you are using.
Watch the video of comparison
The situation
We are fortunate to have a compact, empty room with dimensions of 2.6x3x5 m (HxWxD). This size is quite similar to many other studios in Vietnam. Immediately, the idea of ​​​​making a video comparing the quality and accuracy of the sound appeared and was implemented.
We tested and measured the sound in the room with 3 different cases:
Empty room
Sound absorbing foam
Using professional sound absorption module
The music playback system is Italy's FBT professional speaker, set up to play mono simply. The process of recording and measuring sound uses Earthworks' most advanced measurement microphone, RME audio interface, DAW uses REAPER 6, data analysis on specialized software.
Audio Content
Test audio content includes:
Human voice
1 acoustic track (vocal + acoustic guitar)
1 EDM track
The above 03 audio content helps us to check more angles of sound. Thereby, each person's opinion and experience will also be more complete and accurate.
Conclusion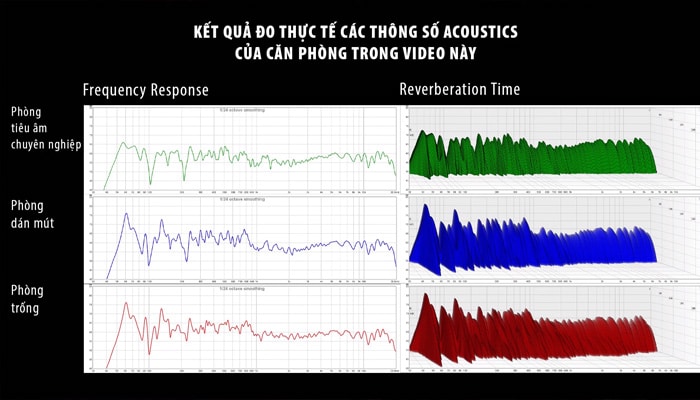 Please listen, see for yourself, look at the chart yourself, then this Conclusion will be done by you.