Talking about the music room, we often understand that: It is a room designed specifically for the purpose of listening to music or experiencing the sound of music lovers or Audiophiles.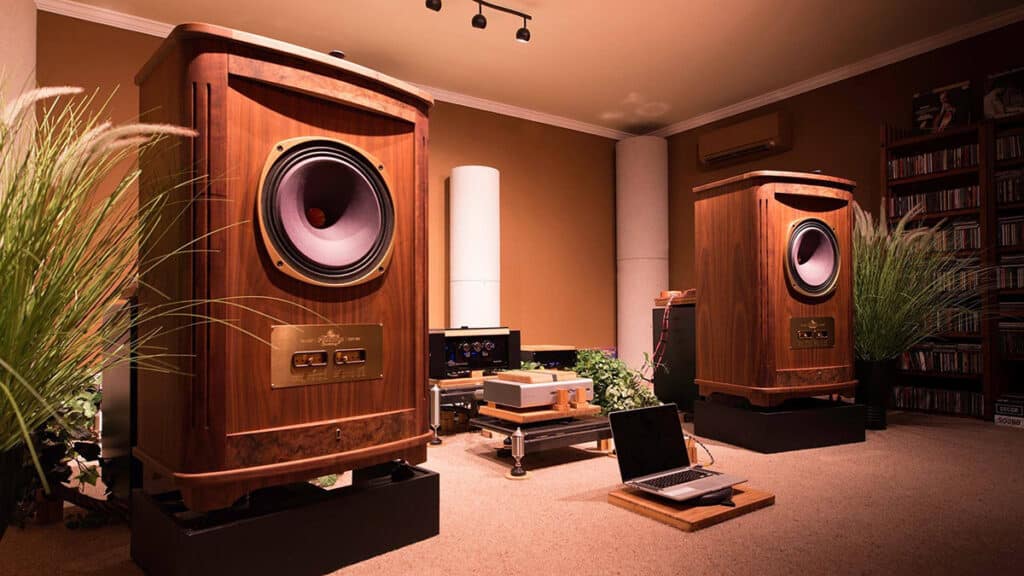 Audiophiles are music enthusiasts (often audio), always looking for the most realistic audio experiences. If you are a music lover and take care of your listening experience little by little, you must have lost sleep when thinking about certain speakers and amps. However, being as simple as that is not enough to achieve the ultimate audio and music experience.
Common Problems
There is an undeniable truth: No matter how much money you invest in speakers, cables, amplifiers, CDPs, DACs… without paying attention to the right acoustics, you will never succeed. Acoustics contributes more than 50% of the room's sound quality.
The extremely complex interactions (challenging even the best physics simulation softwares) of the sound waves in the room are what kills the fullness, precision, and depth of bass, and clarity, details of mid and high frequencies.
If you don't understand this, you haven't learned enough about audio knowledge. When speakers are placed in a particular room, that room becomes the "second speaker" that greatly affects your audio experience. In other words, the sound coming out of that speaker in your room will be different from the sound of the speaker itself when placed in a laboratory.
When you have friends over to play, you will many times encounter situations where each person has a different experience. Some people say that there is no bass, others say that the bass is too much. It's not the fault of the expensive sound system you bought. It was the room's fault.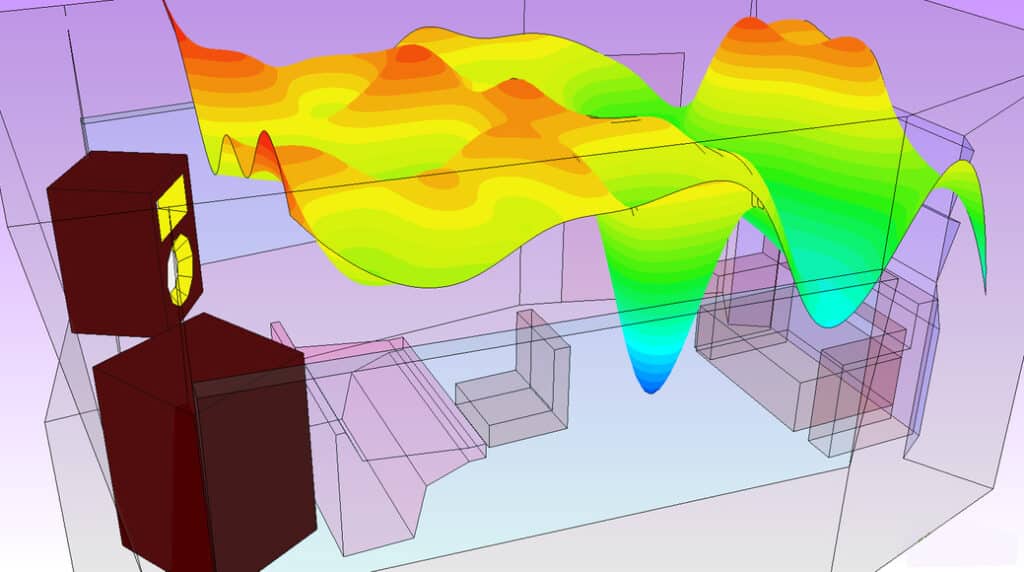 A poor quality listening room always faces the following problems:
Too much outside noise entering the room affects the entertainment experience
Poor sound insulation affects the surrounding neighbors, losing the freedom and privacy when entertaining and relaxing in the room.
Blurry sound, lack of sharpness, poor connection with image content
Extremely unstable bass in various seats in the room
The sound system is too bulky but not suitable
Excessive noise from the air conditioning system
Not convenient during use
All of the above problems are the result of bad design and construction, leading to wasting time and money
Solutions for Music Listening Room
iSS Acoustics provides comprehensive solutions for design, construction, and sound systems for high-end music listening rooms. Here are the essentials to complete such a room.
Acoustic Treatment
A high-quality music listening room always starts with a professional design. Two similar-looking rooms can have completely different soundproofing performances.
iSS Acoustics acoustic treatment design for a high-end music listening room has the following advantages:
Each project is designed specifically, no two projects are the same
Clear, natural sound from the speaker as well as normal conversation
Even, stable sound distribution in all areas of the room
Reduced feedback when using microphones caused by reverberation
Does not affect the aesthetics and interior
Soundproofing
Soundproofing repairs and renovations are extremely expensive. You have to remove the old furniture and soundproofing system, then install the new soundproofing system and redo the interior. Not to mention you will lose a series of fixed costs to maintain the center's business.
The soundproof solution of iSS Acoustics always brings good performance according to your needs at the most reasonable cost thanks to smart design and meticulous and precise construction:
High efficiency

Reasonable cost

Careful construction, technical assurance

Ventilation and air conditioning systems are reasonably arranged, with a noise reduction system for air conditioners to ensure sound insulation performance.
Construction
For a music listening room, a good soundproof design can be completely ruined if you hire a contractor who does not specialize in this field or does the construction incorrectly.
With experience in designing and constructing hundreds of high-class architectural acoustics projects in Vietnam that have been tested for sound quality after completion, you can rest assured when working with iSS Acoustics.
Professional technician team

Close monitoring

Precise and meticulous construction

High-quality materials, safe for users' health

1-year warranty for construction, long-term maintenance, and technical support when needed
Sound System for Music Listening Room
The sound system is the heart of a music listening room.
If you think you just need to buy a good set of speakers and hang them up, we sincerely apologize, you have spent a bunch of money pointlessly. Why?
The sound system needs to be designed very professionally. From the type of speaker, the number of speakers, the speaker layout must all be selected by real sound engineers, not speaker sellers.

A bad

installation

of speakers will also destroy all efforts in soundproofing because of creating structural sound transmission to the entire house.

Audio system alignment determines at least 60% of the customer's audio experience, no matter how good your speakers are. A great sound system can completely be ruined by inexperienced technicians and vice versa.
When well designed, installed, and calibrated, the sound system offers many advantages, such as:
Clear, crisp, balanced sound
The sound intensity is evenly distributed, there are no places where the sound pressure is too large or too small
Durable due to being properly set up and easy to use
iSS Acoustics' highly trained sound experts will help you design, install and align your entire sound system. Gives you peace of mind to operate and enjoy the best possible sound quality from your investment.
DYNAMIK Professional Sound Systems
We have worked with German audio experts for many years to develop our own high-end DYNAMIK speaker system with an excellent price/performance ratio.
Choosing the Right Contractor
iSS Acoustics is a company that designs and constructs spaces with high requirements for sound quality in Vietnam. We have worked with great artists and sound engineers (Nguyen Hai Phong, Touliver, Khac Hung, Duong Cam…), and brought solutions with great performance.
Please feel free to contact us whenever you need to consult or implement a project on music listening rooms.
Or you can submit a consultation request using the following form: